RV Insurance in Georgia: Is Homeowners Insurance Enough?
By Velox | April 26, 2022
Buying an RV for full-time living is an exciting process. So exciting that it's easy to forget about getting the best RV insurance in Georgia. We understand. You're researching the best RVs to live in and you're probably picturing yourself out in the middle of nowhere, away from it all.
But in between reading all those "Best RVs for Full-Time Living" articles, don't forget about protecting yourself and your new asset. If you're thinking that your homeowners or auto insurance policies will cover your brand-new RV, you might be in for a surprise.
This article explains how homeowners insurance covers RVs — and why RV insurance is a much smarter financial move.
Does Home Insurance Include RV Insurance in Georgia?
Many homeowners policies include limited protection for your RV while it's parked in your garage or on your property. Typical homeowners coverage for RVs extends to Class A, B, and C vehicles if they experience a covered event (or peril) such as fire, hail, or tornado. However, home insurance provides less coverage for RVs than you might realize.
For example, personal belongings inside your RV are usually capped at a certain percentage of your claim — usually 10%. After a serious event like a fire, that could mean that you'll be responsible for replacing most of your lost belongings.
If you keep your RV stored in a detached garage, you might run into other issues with home insurance. Most homeowners policies limit coverage for other structures on the property to a percentage of your overall coverage — typically 20%. So, if you have a $200,000 policy, then your insurance will only cover up to $40,000 for your RV if it's parked in a detached garage. Keep in mind that the $40,000 would also have to cover the cost to replace your damaged garage and replace any other belongings that were destroyed.
If you're looking for better coverage, it makes a lot more financial sense to take out separate RV insurance in Georgia.
Do You Need Separate RV Insurance in Georgia?
If you own a motorized RV (Class A, B, or C) in Georgia, then you need RV insurance with the state's minimum liability limits. Your regular car insurance will not cover you while you're driving a motorized RV.
You may also need additional insurance if you finance your RV. Most financing companies require RV owners to have collision and comprehensive coverage for their RV until the loan is paid off. Even if you're not required to have collision or comprehensive RV insurance in Georgia, it's always a good idea to have it if you want to best protect your asset. Between driving around remote parts of the country and navigating tight parking spots in RV parks, there's a good chance your RV will suffer damage at some point. When other drivers aren't at fault, it's collision and comprehensive RV insurance that can save you money.
Now that you understand how insurance coverage works for motorized RVs, let's take a look at insurance for towed RVs and other trailers.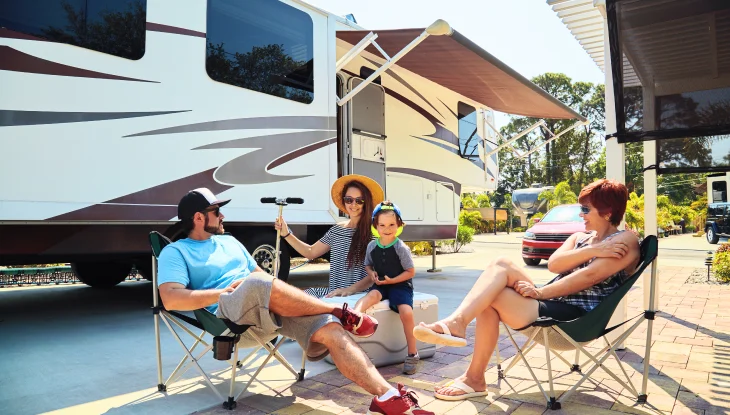 Do You Need Insurance on a Georgia Trailer?
If you own a towable RV like a camper, then the good news is that it's partially covered by your existing auto liability and homeowners insurance policies. However, if you want complete protection for your camper or trailer, then you need a separate RV insurance policy.
While your camper or trailer is parked in your garage or property, your homeowners insurance may provide some protection in case of a fire or other covered event. Check your insurance policy carefully for more details, as some policies explicitly exclude campers and trailers, even when they're parked in your garage.
While you're actively towing your trailer, your liability auto insurance extends to your trailer. For instance, if you're towing a camper and cause an accident that injures other people or causes damage to other cars, then your liability policy will cover you. But your auto insurance won't cover damage to your camper, nor will it protect you if your camper or anything inside it is stolen or vandalized. Even if you have collision and comprehensive auto insurance, keep in mind that this coverage is also limited to a single-vehicle.
Another big thing to consider is that your camper or trailer must be attached to your vehicle to be covered by your liability auto insurance. For instance, if your trailer became detached from your car and rolled into another car, then your auto insurance company wouldn't cover the damage to the other car. You'd be on the hook to repair the damaged car out of your own pocket, not to mention the damage to your trailer.
In short, homeowners and liability auto insurance do provide some protections for trailers, but the coverage is often minimal. If you're serious about protecting your trailer or camper, RV insurance offers the coverage you need.
Find Affordable RV Insurance Online in Georgia Today  
If you bought an RV, you're probably looking for ways to make life less stressful. Achieve that peace of mind you are looking for by getting RV insurance in Georgia. Instead of worrying about when or how your other insurance policies will protect you, RV insurance simply works when you need it.
At Velox Auto Insurance, we help RV owners all over Georgia protect their assets and focus on what matters most: making unforgettable memories. All it takes is a few minutes for a fast and free , or you can call us at (885) GO-VELOX or visit one of our offices in person to learn more.
Ready to Get a Quick Quote?