Car Insurance Quotes in Georgia
Get Cheap Auto Insurance Quotes Online Today
Car collisions can happen in any place and at any time. With Velox Insurance for your car, you'll be prepared in case of accident or injury, all at an affordable price.
Understand the Type of Coverage That's Right for You
All automobile insurance policies are designed to cover your car if an accident occurs. However, there are many types of policies on the market, due to the wide range of vehicles that need coverage and the varying levels of coverage that different drivers desire. Many first-time Atlanta Auto insurance-buyers feel overwhelmed by all the options, so we have broken it down into five major categories:
Choosing the right car insurance Atlanta GA, the policy is easier when you know what you're looking for. Whether one of these five types of coverage seems perfect for your situation, or you're looking for a solution more tailored to your situation, Velox Insurance will help you find the policy that is best for you.
Discover the Velox Car Insurance Difference
When you buy the auto insurance in Atlanta, GA the expenses can take up a huge chunk of your budget. But, here at Velox, we offer many discounts and coverage options to help you insure your car at a more affordable price.
Our agents will work closely with you to protect your most valuable assets by finding the appropriate amount of coverage at the lowest price possible. However, if you don't feel like picking up the phone, our online platform makes it easy for you to purchase a policy directly through our website without ever having to speak to an agent. Our technology also allows you to compare rates in real time to ensure you're truly getting the best-priced policy. And once you have a policy with us, you can use our intuitive app to easily submit claims or make payments. At Velox, we're happy to help when you need us—we'll attend to your needs right away when you file a claim. But with our easy online platform, we also respect your space. We strive to keep your car insurance experience nothing short of comfortable, from getting a quote to filing a claim.
How to Get Automobile Insurance in Atlanta, GA?
Your first step toward affordable car insurance Atlanta GA from Velox is requesting a quote. Call 855-468-3569 to talk to our agents over the phone, visit an office near you, or . Whichever way you contact us, it's helpful to have the following information ready:
Vehicle identification number
The driver's license numbers of the people who will be driving the car
Brand, model, and year of your car
The location where your car is garaged
Your credit or savings account information
Your current auto insurance policy, if you have one
Your driving history (e.g., accidents, violations, and so on)
Information on your car's loan or lease
Your social security number
Accessories installed in your car
Our agents will evaluate this information to help determine what type of coverage best suits your needs and tailor a policy to your situation. Generally, our policies follow your car. Unless you have specifically excluded someone from your car insurance Georgia policy, anyone who has implied permission to drive your car—for example, a family member or a friend—will be covered by the policy when they use your vehicle.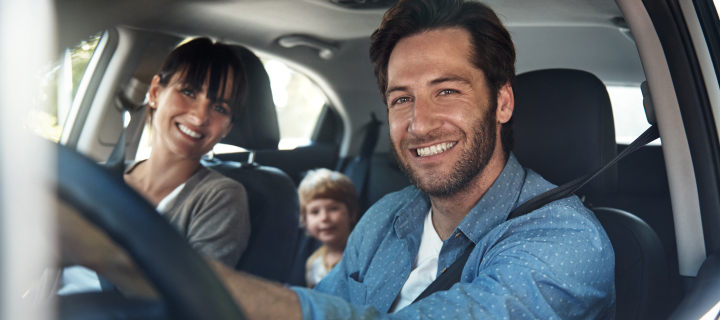 If you do get in an automobile accident, make sure to collect police reports, witness statements, and vehicle license plate numbers for the insurance company. Velox will take care of the rest. Call us at 855-468-3569, visit a local agency in Alabama, Arizona, California, Florida, Georgia, Indiana, South Carolina, Tennessee, or Texas. Or, get an to start saving money today.
FAQs
How much does car insurance cost in Atlanta, Georgia?
The average car insurance cost in Georgia is $1,388 per year, which is lower than the national average cost.
What affects car insurance rates in Atlanta, Georgia?
Several factors affect car insurance rates, such as one's age, credit rating, driving history, gender, and marital status.
What is the minimum auto insurance requirement in Georgia?
The minimum limits of liability required under Georgia law are Bodily injury Liability of $25,000 per person, $50,000 per occurrence, and Property Damage liability of $25,000 per occurrence.
How much auto insurance do I need in Georgia?
Georgia law requires that all drivers must have at least the following required minimum auto insurance coverages for your vehicle: Bodily Injury Liability: $25,000 per person and $50,000 per accident. Property Damage Liability: $25,000 per accident.
Is Auto insurance required in Atlanta, GA?
Yes, Georgia law requires that all drivers must have at least minimum auto insurance coverage of 25,000/50,000 Bodily injury and 25,000 property damage.
Can I get car insurance with bad credit?
Yes, you can get car insurance if you have bad credit but your insurance rate could be a little higher. Thankfully Velox Insurance represents several insurance carriers and we can find you at a very competitive rate.
What are car insurance discounts available in Georgia?
Some of the auto insurance discounts available includes:
Homeowner discount
Good driver discount
Good student discount
Continuously insured discount
Paperless discount
Marriage discount
Multi-vehicle discount
EFT (electronic funds transfer) billing discount
Monitored device discount
Multi-line discounts
Paid in full discount
Defensive driving course discount
Three ways to get an Automobile quote