ATV Insurance Quotes
Cheap ATV Insurance – Quick and Easy
ATV Insurance: All-terrain vehicles should be protected by an appropriate policy. There are different levels of coverage for ATVs. The basic level is liability, which covers bodily injury and property damage. Collision coverage will allow you to replace or repair the ATV if you are involved in any type of collision. Comprehensive coverage is designed to repair or replace your ATV if it is damaged by some type of non-collision event. This can include natural disasters, vandalism, fire, water damage and similar incidents.
Medical coverage is a good option for anyone concerned with the potential costs of medical care in the event of an injury. Consider the option of bundling an insurance package together. ATV Insurance policies can be combined with other insurance products for the best value. This can provide coverage for multiple vehicles like motorcycles, snowmobiles, golf carts and similar vehicles. Insurance agents can explain the available options.
ATV insurance coverage is available through Velox in , , , , , , , and .
Some of the ATV vehicles we cover include:
3-wheel, 4-wheel and

6-wheel

ATVs
Dune buggies
Snowmobiles
Dirt bikes
Go cart
Golf carts
And more
Your Velox Insurance agent can help you find affordable coverage for your ATV. Call your local agent at 855-468-3569 and start enjoying worry-free adventures today!
Below are some of the coverage options for your ATV. Your Velox Insurance agent will help you assess what type of coverage is best for your needs.
Coverage
Discounts
We know you want to save more money and cut down insurance expenses. That is why here in Velox Insurance, we are more than happy to help you find ways to trim down your expenses through qualifying discounts.
Why buy ATV Insurance from Velox?
All-terrain vehicles are made to be used on tough trails, which is why it is important that you insure it with the right insurance company to get the best coverage in case of damages, theft, or accidents. So, why Velox ATV Insurance?
We are a dependable insurance provider. Velox can help insure your vehicle from theft, fire, flood, damage, property injuries, vandalism, and many more. Our company makes sure that you get just the right insurance coverage that best suits your needs.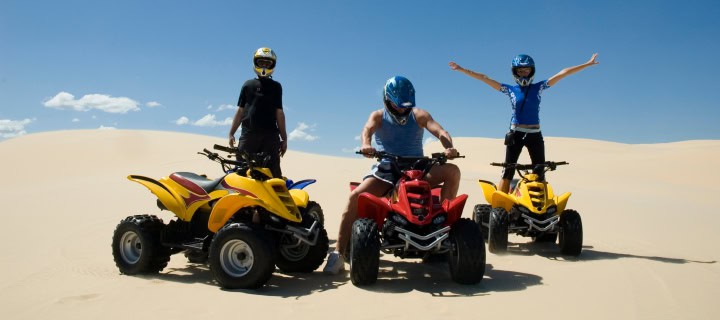 While getting a quote from our agents, inquire about any discounts that you would qualify for.
We offer competitive insurance rates on ATVs. You may request for a quote online or you can talk to our agents by calling 855-468-3569.
FAQs
How much coverage do I need from my ATV Insurance?
There are many determinants as to how much insurance coverage you need for your ATV; each vehicle is different and every driver is also different. A good determinant of how much insurance you need is how you use your ATV. Do you use it to navigate through the hillside? Or perhaps use it for sand dune riding? Aside from that, you should also consider the your ATV's value, as well as the assets that you want to protect in the event that someone would file a liability claim against you.
How do we determine the market value of your ATV?
When determining the market value of your vehicle, our examiner usually takes the book value and actual market value into account. Thus, we would have to check online and classified ads so we could get an idea of its current selling price from at least 5 samples in your area. They will then get the average of these samples to come up with the actual value of your ATV.
How to request for a quote for an ATV insurance policy?
Our agents will allow flexibility on the insurance policies when you request a quote, you'll get to choose the type of coverage, limits, deductibles, as well as policy start dates that would work well for you. To get an accurate pricing, you might want to have the following information handy: – Complete information about the ATV/s you wish to insure. This includes manufacturing date, model, mileage, and its overall condition. – The names of drivers you want to insure, including their driving history. – Information about your recent insurance provider.
If you have any more questions, feel free to contact us by clicking here. You can also visit us at one of the offices listed on our website.
Three ways to get an ATV quote