5 Commercial Auto Insurance Benefits Most Entrepreneurs in Georgia Don't Know About
By Velox | November 29, 2022
Whether you own a food truck in Atlanta, an antique store in Savannah, a landscaping business in Augusta, or a number of other professions in the Peachtree State, you might need commercial auto insurance in Georgia.
Although entrepreneurs typically like risks, your auto insurance is not the place to take them. So, if you're doing business in Georgia, it only makes sense to ensure you're covered with the proper insurance policies. Some business leaders may choose to get the bare minimum coverage, which is fine for some folks who won't be using their personal vehicle for commercial purposes.
However, there are advantages to upgrading your coverage if you – or your employees – are using your vehicle for your business. After learning about these 5 potential benefits, you may decide to review your current plan.
1. Is Commercial Auto Insurance Customizable for Your GA Business?
Not all entrepreneurial endeavors have the same requirements. If you're a Georgia insurance professional, you might only use your own vehicle for getting from home to your business and back. Thus, you may only need state-required basic 25/50/25 plan, which covers $25,000 for each personal injury, $50,000 total for personal injury per accident, and $25,000 in property damage.
If you're on the road for business a little more often, or your business requires more vehicles and equipment, you might need more coverage. The construction business, landscaping providers, and garbage removal services are a few industries that might require extra coverage. For example, a landscaper may need coverage that protects the equipment they haul.
Many commercial auto insurance providers in Georgia offer a variety of coverage options. Consider what the unique needs of your operations might require before settling on any policy. The savvy entrepreneur will have a relationship with their provider and ask the right questions to ensure the best protection possible.
2. What Happens When an Employee Gets into an Accident?
Georgia is famous for its mountainous landscape, making for some rough rides on certain back roads. You can hit a bump, lose control, and end up in a collision or rollover, and as a result, you would have to be responsible for a variety of expenses.
Personal auto insurance will not cover your liability if you get involved in an accident while driving for business purposes. That's when you need to rely on your commercial policy. If your business includes a fleet of vehicles, you'll find that commercial fleet insurance policy is cheaper than individually insuring the vehicles.
Options exist to ensure your business is safe from paying exorbitant costs due to an accident. Ultimately, you, as a smart businessperson, will want to ensure you and your employees are protected in the event of an unforeseen situation on the rough Georgia terrain or on a well-traveled state highway.
3. Does It Cover Physical Damage?
When collisions happen in Georgia, your vehicle and others may require costly repairs. Having a good commercial auto insurance policy, in this case, will reimburse you for such a predicament. In fact, you should be able to file a claim whether or not the accident was your or your employee's fault.
With rising inflation, the costs to repair construction vehicles, dump trucks, and other heavy-duty transportation are becoming prohibitive to doing business. Don't get caught with an insufficient plan. Make sure your business doesn't fail due to one untimely and unfortunate automotive incident.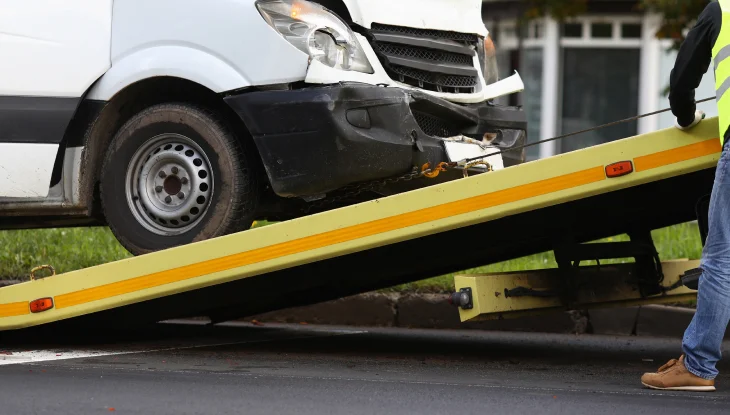 4. Does Commercial Auto Cover Medical Expenses for Georgians?
Physical damage to vehicles is costly enough, but medical bills can be even more problematic. A good commercial auto policy should help not only with medical bills, but also any lost wages and even legal expenses in the event you're the subject of a lawsuit.
Nobody wants to talk about medical expenses when someone is injured, but having good commercial auto insurance isn't just self-serving. It's actually a way to ensure that people get the medical attention they need in the event of an accident. Some procedures and ongoing care can amount to unimaginable costs. It could be too much money for a small businessperson to pay. The right thing for everybody is to ensure your business is properly protected by the right policy.
5. Are Discounts Available on Commercial Auto Policies in Georgia?
As an entrepreneur, you need to know you're getting value for every expense. Talk to your insurance provider about the discounts for which you may qualify.
Different businesses will be entitled to different savings. The important thing is not to allow your provider to force you into any "one size fits all" plan. Commercial policies should be fully customizable according to the type of business you run, how many employees you have, what equipment you haul, and a variety of other factors.
To probe for every discount available, you may need to set aside a reasonable amount of time when calling someone about commercial auto insurance in Georgia. Sure, time is money as a business leader, but you still need to get all the facts, discuss what your options are for coverage, and find the lowest premium available.
Not everything insurance-related is about price, however. Customer service and an easy claims process are also valuable. Check for online reviews and make sure the company with which you agree to terms has a good reputation and stands behind their words.
Find Affordable Comprehensive Commercial Coverage in Georgia Today
If you're a business owner and Georgia is "on your mind," make sure you have the right commercial auto insurance. After considering all options, your next call should be to Velox Insurance.
Contact us at 855-468-3569, find an , or stop by one of our convenient locations if you prefer to get all your questions answered in person. Whatever way you choose, rest assured we'll provide you with the best customer service possible. Hope to see or hear from you soon!
Ready to Get a Quick Quote?