How Georgia Motorcycle Insurance Premiums Are Calculated
By Velox | September 26, 2022
Being a motorcycle owner definitely has its perks, but with it comes certain responsibilities, such as having enough motorcycle insurance to protect you and your bike.
As you compare quotes for Georgia motorcycle insurance premiums, you might be wondering where they come up with all those numbers. Insurance companies use information about you and your riding habits to come up with a final price. This article walks you through what affects your insurance premiums and how you can lower the amount you pay for Georgia motorcycle insurance.
How Are Georgia Motorcycle Insurance Premiums Calculated?
Insurance companies in Georgia consider a variety of factors to determine your motorcycle insurance premium, including:
Your driving record
Your location
Your age and experience
Your policy limits
Your deductible (for collision and comprehensive insurance)
Your credit score
Your riding frequency
Let's walk through how each of these factors plays a role in calculating Georgia motorcycle insurance premiums.
Your Driving Record Affects Your Insurance Premium
One of the most important factors when calculating Georgia motorcycle insurance premiums is your driving record. Driving-related violations add points to your record. The more points you accrue, the more you'll pay for your Georgia motorcycle insurance.
A few examples of what can get you driver's points in Georgia include:
Note that Georgia motorcycle insurance companies consider your entire driving record and not just your motorcycle record. So, if you were at fault for an accident while driving a car, your motorcycle insurance premiums will go up, too.
In Georgia, most points will stay on your driving record for two years, starting from the date that the traffic ticket was issued. However, points from a DUI conviction will stay on your record longer — 5 years — and the DUI conviction itself will stay on your record permanently.
Insurance Rates go up in a High-Crime Location
Another major factor in calculating Georgia motorcycle insurance premiums is your location. Insurance companies keep track of accidents and insurance claims by ZIP code. If you live in a neighborhood that experiences a lot of accidents, theft, vandalism, and insurance claim activity, then you'll pay more for your motorcycle insurance.
In addition, where you keep your bike at night plays a role in your premium. Motorcycle owners that keep their bikes in secure private garages can expect to pay less than owners that park their motorcycles on the street or in a public garage.
As you fill out your application for Georgia motorcycle insurance, it can be tempting to use the address of parents or friends who live in a "safer" ZIP code. But keep in mind that lying on your application is insurance fraud. Not only are insurance companies good at figuring out whether you actually live where you claim to live, but getting caught will mean that the insurance company can deny your claims and even refuse to cover you.
Your Age and Experience is a Big Factor in Motorcycle Insurance Cost in Georgia
Older riders can always expect to pay less for Georgia motorcycle insurance. Insurance companies view older operators as more mature and less likely to engage in risky behavior. So aging out of those young years as a teen driver will go a long way to lowering your motorcycle insurance premium.
That said, experience is also important. If you are climbing on a bike for the first time in your 50s, you won't be getting the same rate as someone in their 40s whose been riding for 20 years. Experience counts for a lot – both in regular vehicles, but especially on motorcycles.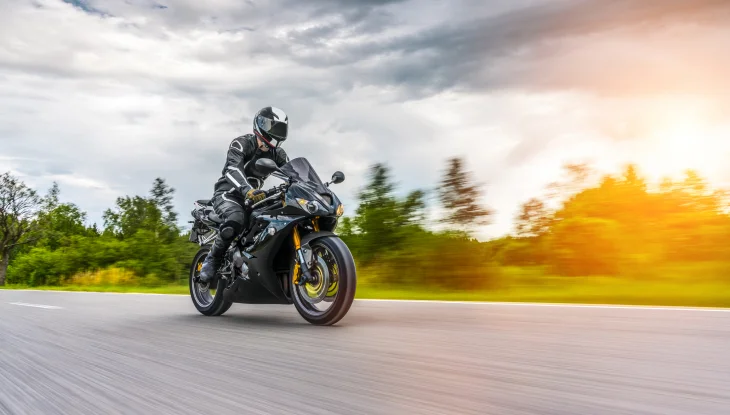 Realistic Auto Insurance Policy Limits Are Always a Good Idea
Motorcycle insurance premiums are affected by the insurance policy limits, which is the maximum amount that the insurance company will pay out when you make a claim. All Georgia motorcycle insurance policies must have at least the following policy limits:
$25,000 in bodily injury liability coverage (per person)
$50,000 in bodily injury liability coverage (per accident)
$25,000 in property damage liability coverage
On the one hand, the higher the policy limits, the more you'll pay in motorcycle insurance premiums. On the other hand, opting for the state-required minimum coverage can still expose you to financial risk if you're at fault for a serious accident with damages that go beyond your policy limits. When that happens, the other driver can sue you for the remaining amount, and you'll be on the hook to pay the driver out of your own pocket if the court rules against you — not to mention the attorney fees and other legal costs.
If you're looking to give yourself the best financial protection while riding your motorcycle, it's a good idea to pay a little more in premiums now for a motorcycle insurance policy that can cover you in any accident.
Your Deductible is One Sure Way to Lower the Cost of Motorcycle Insurance
If you're shopping for collision and comprehensive motorcycle insurance coverage, your deductible will also play a role in your insurance premium. The deductible is the amount of money you agree to pay before the insurance company starts covering a claim.
A higher deductible means you're less likely to make a motorcycle insurance claim for minor accidents. In return, you won't have to pay as much in insurance premiums. The downside is that you'll have to pay more money later if your car is damaged or stolen and you do make a claim.
A rule of thumb is to set your deductible to an amount that you can quickly pay if you're involved in an accident. For example, if your deductible is $1,000, then you should have at least that amount in a savings account or emergency fund. If you want to save money on Georgia motorcycle insurance premiums by increasing your deductible, then you should make sure to add enough money to your emergency fund so that you can cover the new amount.
Insurers Like to Look at Your Credit Score
Not every state allows insurance companies to use a credit score to calculate motorcycle insurance premiums, but in Georgia it's still legal. Bikers with better credit can expect to pay less for Georgia motorcycle insurance.
If your credit is less than perfect, working to improve your credit score will help lower Georgia motorcycle insurance premiums. You can start by catching up on past-due accounts, paying down credit card balances, and ensuring that you pay your bills and insurance premiums on time.
Your Riding Frequency Has a Bearing on Your Motorcycle Rate in Georgia
Just like with auto insurance, you'll pay less for Georgia motorcycle insurance if you only use your bike on weekends or for leisure rides. The reasoning behind this is that casual riders are on the road less and therefore are less likely to be involved in an accident compared to daily motorcycle commuters.
Get Cheap Motorcycle Insurance in Georgia Today
You can't control the fact that all bikers in Georgia need motorcycle insurance. But you can control how much you pay for it. At Velox Insurance, our agents work with motorcycle owners to find the insurance they need at an affordable price. All it takes is a few moments to get an online quote for , or you can visit one of our offices in person. You are also welcome to reach out and call us at 770-293-0623.
Ready to Get a Quick Quote?