Does Renters Insurance Cover Sinkhole and Flood Damage in Georgia?
By Velox | August 03, 2022
If you're moving into a new apartment or rental home in Georgia, you're probably already aware of the dangers of hailstorms, tornadoes, and other common types of inclement weather in these states. Fortunately, there's renters insurance to protect you and your property from these damaging storms.
But does renters insurance protect against all kinds of storms? What about floods? And what about sinkholes, which are the most common in this part of the country?
How Do Floods and Sinkholes in Georgia Cause Damage?
It's not hard to imagine a giant sinkhole or massive flood causing damage, but even minor events can cause millions of dollars in damage to your Georgia living space. Here are just some of the ways this type of disaster causes damage.
Foundation and Structural Damage
A small sinkhole nearby could affect the foundation or structure of your rental home, making it more likely to shift and collapse over time. If your rental home needs this type of repair, you may have to stay somewhere else until it's safe to live there again. Many renters insurance policies can reimburse you for hotels and meals while your rental home is uninhabitable.
Even a minor flood can cause mold in your rental home. Mold can easily spread to your furniture and clothing, though the right renters insurance coverage will reimburse you for these losses.
Both sinkholes and floods can down power lines and cause power outages. When power is restored, the electric current will spike to fill in the empty space. This brief power surge can damage sensitive electronics and anything else that's plugged in to an outlet.
Will My Renters Insurance in Georgia Cover Sinkhole and Flood Damage?
Typically, no. It depends on the type of renters insurance you have. Most renters insurance coverage specifically excludes damage from sinkholes and floods.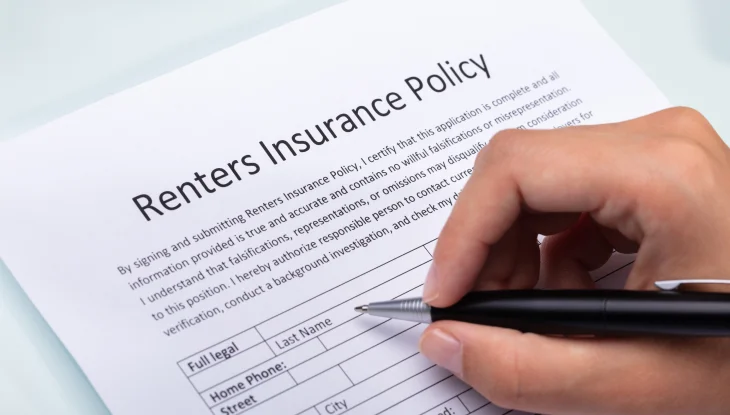 How Do I Know If My Renters Insurance Covers Sinkhole and Flood Damage?
The best way to find out about your renters insurance coverage is to take a look through your policy. Figuring out what your renters insurance does and doesn't cover depends on the type of policy you have. You will most likely have one or the other of these two types of policies:
The most common form of renters insurance is known as a named perils policy. This means that the insurance company will cover events and disasters only if they're specifically listed in the policy. The most common events covered in a named perils renters insurance policy are:
Fire or lightning damage
Theft
Vandalism
Smoke damage
Wind damage
Water damage from leaks and pipe bursts (but not from floods)
Falling objects
Damage caused by vehicles
If you have a named perils policy, then check to see if sinkholes or floods are listed as named perils. If not, then they're not included in your renters insurance coverage. But you're not alone — it's rare to see floods and sinkholes covered in basic renters insurance. The good news is that you can talk to your insurance company about adding in the extra coverage (more on that below).
Open perils policies work in the opposite way as named perils policies. These policies will cover any type of event unless it's specifically excluded in the policy.
Open perils renters insurance is extremely rare, but if you do have this type of renters insurance coverage, then check to see if floods and sinkholes are specifically excluded. If not, then your renters insurance will cover sinkhole and flood damage.
Will My Landlord's Insurance Cover Sinkhole and Flood Damage?
Your landlord's insurance will only cover damage to the property itself — foundation repairs, mold removal, and so on. So, while your landlord is responsible for bringing your rental home back into a livable condition, they're not responsible for anything inside your home.
You will always be responsible for covering your own belongings. That's why it's so important to make sure you have adequate renters insurance, even if you don't own much.
How Can I Get My Renters Insurance to Cover Sinkhole and Flood Damage in Georgia?
Talk to your insurance company and let them know that you want to add sinkhole and flood damage as part of your renters insurance coverage. Insurance companies are used to handling special coverage requests, so they should be willing to quickly provide a quote for the added protection. This is known as an "endorsement" on your policy.
When you ask your insurance company to add an endorsement, you'll be charged a higher premium depending on a few factors, such as:
Your history with the insurance company: If you're a long-time loyal customer, insurance companies are more willing to offer special discounts.
Where you live: Some areas are more prone to floods and sinkholes than others. In fact, there are publicly available flood zone maps of the entire U.S. If you live in an area with a high flood risk, you should think about making sure that your car insurance covers flood damage as well.
How much coverage you want: One way to help offset the cost of an endorsement is to adjust the limits of your policy. If you ask for lower policy limits or a higher deductible, then you may end up paying the same premium when you add in the endorsement. Just don't put yourself in a situation where you won't be able to afford the higher deductible in the event of a disaster.
What Other Natural Disasters are Covered by Renters Insurance in Georgia?
Keep in mind that renters insurance coverage protects you against specific types of damage (perils) rather than general natural disasters. For example, you won't see a renters insurance policy list hurricanes as a covered event, but you will see coverage for lightning, wind, hail, and, with the right endorsement, floods — all damage that a hurricane could cause. Other examples include:
Hailstorms: wind damage, falling objects. Renters insurance could also cover water damage from a leaking roof
Tornadoes: wind damage, falling objects
Freezing rain: many renters insurance policies cover damage caused by the weight of ice and sleet on the roof
Find Affordable Renters Insurance in Georgia 
Floods and sinkholes may be rare, but they can come at any moment and with little warning. That's why it's so important to make sure your renters insurance coverage includes sinkhole and flood protection. At Velox Insurance, we work with renters all over Georgia  to get them the insurance they need at the best possible price. All it takes is a few minutes for an . Or you can visit us at one of our offices or give us a call at 770-293-0623.
Ready to Get a Quick Quote?