Do You Need Commercial Plates If You Have Commercial Insurance in Georgia?
By Velox | August 30, 2022
If you own a business, then you've probably already wondered about what commercial vehicle insurance is and whether you need it. While most vehicles need commercial insurance when they're being used for business, the answer is less clear for commercial plates. Does getting commercial vehicle insurance always mean you need commercial plates?
This article explains everything you need to know about when you need commercial plates in Georgia, as well as how to get them.
What Is Commercial Vehicle Insurance and What Are Commercial Plates?
Commercial insurance is designed to cover the business use of vehicles (cars, vans, trucks, buses, and attached trailers). Commercial vehicle insurance works a lot like personal auto insurance, though commercial insurance does offer additional protections such as covering equipment and employees who drive your business vehicle.
Commercial plates are special license plates for vehicles that are used exclusively for business purposes. Like commercial vehicle insurance, commercial plates can be for any type of vehicle.
If you use your car for business, then you should absolutely have commercial insurance, even if your car is also for personal use (the commercial auto insurance will kick in only when you're using your car for business). What about commercial plates? Do you need those too?
Does Commercial Vehicle Insurance in Georgia Require Commercial Plates?
In most cases, your vehicle should have commercial plates if your vehicle is used primarily for business purposes. If you have commercial insurance for your vehicle, then chances are you may need commercial plates, though each state has its own guidelines, regulations, and exceptions.
Here are the most common situations where you would get both commercial insurance and commercial plates in Georgia.
Your Vehicle Exceeds a Certain Weight
In Georgia, your vehicle will need commercial plates if it exceeds 10,001 lbs. (5 tons). There's also a separate registration process for vehicles that weigh over 55,000 lbs. (27.5 tons).
Your Company Owns the Vehicle
Many business owners choose to purchase a company vehicle that's owned directly by the business rather than themselves. There are a lot of good reasons to do this, though keep in mind that any company-owned car will always need both commercial vehicle insurance and commercial plates.
Your Vehicle Has Lettering or Advertising
In Georgia, your vehicle is considered a commercial vehicle if you have any lettering, logos, or other company-related related text on the vehicle. This is true even if you use removable magnetic letters or decals.
Your Vehicle Transports Hazardous Materials
A vehicle that transports any hazardous material — whether or not placards are required — is considered to be a commercial vehicle in Georgia. Note that this requirement is stricter than federal requirements, which only apply when the vehicle requires placards to transport the hazardous material.
You Carry Passengers or Property for Hire
Georgia defines any vehicle that carries property or passengers for hire as a commercial vehicle. This includes taxis, limousines, tow trucks, parcel delivery vehicles, and non-emergency medical vehicles.
Note that you'll also need commercial plates if your vehicle can carry more than 15 people (including the driver), even if you're not carrying passengers for hire.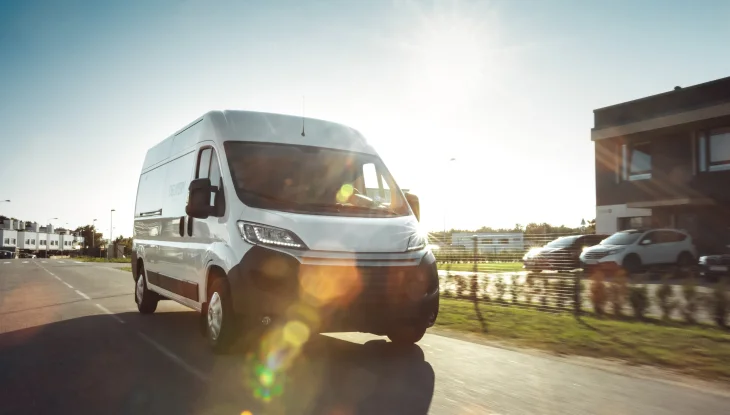 What Are the Advantages of Commercial Plates in Georgia?
Commercial vehicles come with a special set of requirements like commercial vehicle insurance. Many pickup truck manufacturers design their vehicles so that they fall just under the 10,001 lbs. weight limit. Here are a few of the advantages to having commercial plates:
You Get to Park in Commercial Vehicle Zones
Have you ever seen parking zones that are reserved for commercial vehicles only? With commercial plates, you can now park in these zones legally. This can make loading and unloading a lot easier, especially in cities with limited street parking.
You Can Deduct Your Vehicle Costs
Having a commercial vehicle means that all vehicle-related costs, from registration fees to gas, are tax deductible. This is a great way to offset the costs of your commercial insurance, not to mention high gas prices.
You Can Get a Discount on Your Commercial Insurance
Many auto insurance companies offer special discounts on commercial vehicle insurance for cars and trucks with commercial plates. Talk to your insurance company about what they can offer. Don't be afraid to shop around for the best Georgia commercial insurance to make sure you're getting the best deal. When you ask for quotes, don't forget to mention that your vehicle has commercial plates.
When Don't You Need Commercial Plates in Georgia?
While it seems that you almost always need commercial plates with commercial insurance, there is a major exception. If you have a personal vehicle — one that's not owned by your business — then you don't need commercial plates, even if you use your vehicle for business purposes. However, you'll still need commercial vehicle insurance to cover you when you are using your personal car for business.
Where Can You Get Commercial Plates in Georgia?
It depends on where you plan to drive your commercial vehicle. If you'll be staying exclusively in one state, then you can register your commercial vehicle at the local DMV or county tag office. However, commercial vehicles that plan to cross state lines must register in the International Registration Plan (IRP). The IRP is a registration and licensing agreement between all U.S. states, the District of Columbia, and Canada.
When deciding whether to register your commercial vehicle under the IRP, keep in mind that crossing state lines can happen more often than you think, especially when you live near a state border. Businesses in cities like Savannah and Augusta can severely limit their opportunities to do business if they can't cross their state borders a few miles away.
Commercial Plates or Not — Always Find Affordable Commercial Insurance in Georgia
While not every car needs commercial plates, you do need commercial insurance when you're using a car for business purposes. Otherwise, you risk getting caught driving without proper insurance. At Velox Insurance, we work with business owners all over Georgia to get them the commercial insurance they need at the best possible price. All it takes is a few minutes for an . Or you can visit our offices in person or give us a call at 770-293-0623.
Ready to Get a Quick Quote?