Do I Need Personal Auto Insurance for My Rental Car in Georgia?
By Velox | March 20, 2023
You do not need an auto insurance policy to rent a vehicle in Georgia. However, you should consider one of two purchases if you plan to rent a car:
If you have your own insurance policy, consider adding additional liability coverage.
Add additional options available for sale from the rental company itself.
Read on to learn the ins and outs of renting a vehicle in Georgia, how insurance works, and more about instances where your personal car insurance will not cover a rental vehicle.
What Type of Insurance Comes With a Rental Car?
In Georgia, you can expect your rental car to come bundled with the minimum required amount of liability protection.
If you want to add additional coverage to your rental car policy, you can purchase it directly from the rental car company or rely on your personal auto insurance policy.
Make sure to ask the company for the specific amounts and types of protection your car comes with, and identify any gaps in the resulting coverage to ensure you have the right level of coverage for your situation.
Does Georgia Have Minimum Auto Insurance Rules?
Yes, the state of Georgia requires drivers to carry the following minimums:
Bodily Injury Liability: $25,000 per person/$50,000 per accident.
Property Damage Liability: $25,000 per accident.
Georgia requires these types and amounts of coverage by law. Additionally, the state assesses liability based on which driver has responsibility for the accident (the "at-fault" driver).
Your rental car will come with these minimums, but you may want to consider adding additional coverage either through your rental company or via your own insurance if you have a personal auto policy.
How Do I Choose the Right Rental Car?
When it comes to choosing the right car, consider the following options:
Your driving record: A recent traffic violation could make it difficult to rent a car.
Deals and exclusive offers: Make sure to shop around for special deals to save money on your rental.
Shop around for the best price: Also compare quotes from multiple rental companies.
Determine what size vehicle you need: Consider the type of car you need. Sedans and smaller cars will cost less than SUVs and comparable vehicles.
Figure out where you need to return it: Planning a one-way trip to your destination? You may incur extra fees.
What Kind of Fees Can I Expect?
The most common fees and charges that renters receive when renting a vehicle include:
Gas: Nearly all companies require you to return your vehicle with a full tank of gas.
Mileage: You may run into daily mileage limits, although most rentals do not have restrictions.
Taxes: You can expect to pay local and state taxes.
Surcharges: If you rent a vehicle from an airport, you can expect to pay additional fees.
Late Returns: Returning your vehicle late may incur a penalty.
Tolls: You may need to pay tolls and associated service fees.
One-Way Trips: If you do not return your vehicle to its original pickup point, you may have additional charges.
What Happens If I Get Into An Accident With a Rental Car?
In Georgia, the at-fault driver assumes liability for an accident. As with any accident, you will want to exchange contact and insurance information with the other party. You should also contact law enforcement to begin a paper trail for the incident.
Once you've exchanged info and made sure that everyone is uninjured, reach out to your rental company to report the accident. Your vehicle should contain a phone number to call in the event of an accident.
At this point, your company will ask you to complete some paperwork. Make sure to fill out this information as accurately as you can. Also, consider meeting with an attorney if you believe you were liable for the accident.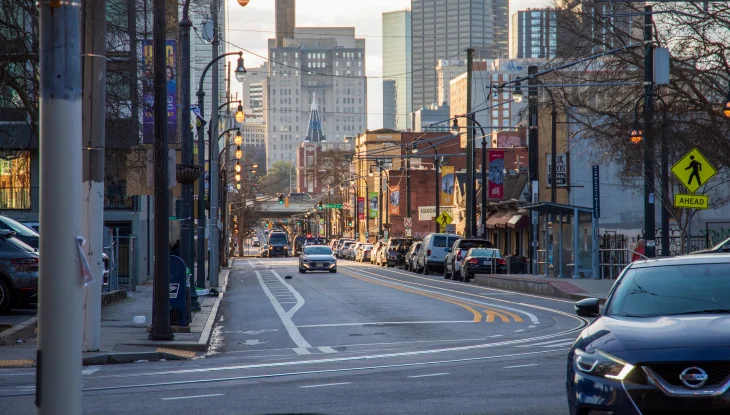 What Coverage Options Are Available?
Each company has its own set of offerings, but you can expect to find the following types of products offered when you go to the office:
Personal Effects
Personal Accident
Collision Damage Waiver (CDW)
Liability Supplement
You can find equivalent types of coverage with your insurance plan by adding an additional liability amount, comprehensive coverage, carrying health insurance, and having a homeowner's or renter's insurance policy.
How Do I Report a Problem With My Rental Vehicle or the Rental Company?
The Federal Trade Commission recommends that you contact one of the following two organizations if you need to report a problem:
The company you rented from.
The Georgia attorney general if needed.
If you choose to contact the rental company itself, make sure to speak to the proper customer service rep and ask for a manager if you do not feel your issue has received adequate attention.
You may also contact Georgia's consumer protection division.
What Should I Consider Adding to My Personal Auto Insurance Policy Before Renting a Vehicle?
Liability is the main risk that drivers who rent vehicles face and it comes in two forms: bodily injury and property damage.
Consider increasing your personal policy's liability limits to have extra protection in the case that you're responsible for an accident.
Additional liability coverage can protect your assets in a lawsuit, especially if your case goes to a civil trial.
Find the Most Affordable Auto Insurance in Georgia Today
At Velox Insurance, we are here to help Georgia drivers find the best coverage for their personal vehicle or a rental car. You can get a quick , give us a call at 855-468-3569 or stop by one of our locations.
We'll help you pick the right plan for your needs!
Ready to Get a Quick Quote?