What Should I Do if I Get into an Accident in Georgia?
By Velox | August 28, 2023
Today's topic is a bit of a serious one but it is important: what to do when you get into an accident in Georgia. Full coverage auto insurance can help, but that's not the end of the story.
While the Peach State might be known for its cheerful southern hospitality, the birthplace of Coke, and scenic national parks, car accidents do happen. Knowing what to do if you find yourself in this situation can make a huge difference. Keep reading to learn more about proper accident response in Georgia.
Step 1. First, Make Sure Everyone is OK
Oops! An accident! The very first thing to do, before anything else, is to ensure everyone involved is okay. Health comes first.
If needed, call for medical assistance immediately by dialing 911. Remember, those moments right after an accident can be disorienting. So, take a deep breath and try to remain calm.
You should carefully check yourself and your passengers for injuries, especially head and spine injuries. After you've looked over yourself, then, if it is safe, check to see if the other driver is OK.
Never hesitate to call an ambulance regardless of health insurance status!
Step 2. Take Photos of the Vehicles and Scene
Act like a tourist for a few minutes. Get out that camera or smartphone and snap pictures of the scene, the vehicles, and the damage.
Look for any signs of property damage to homes, businesses, or parked cars. These photos could be helpful when dealing with insurance companies.
Only take pictures if it is safe!
Step 3. Move Vehicles If Possible
If the accident is minor and the vehicles aren't totaled, try to move them to a safer location, away from the flow of traffic. This is especially important if the accident has happened on one of Georgia's major interstate highways or a busy road.
Step 4. Call Law Enforcement
Even in minor incidents, it's a good idea to call the police. The officers can provide an official accident report that may be useful when you file your insurance claim. Don't go around playing detective yourself. Leave that to the professionals. Your job is simply reporting a car accident, not pretending to be the FBI.
Additionally, the police can be helpful if the other driver has become belligerent as a result of the accident. Having a police presence can make a big difference in helping to settle the situation as safely as possible.
Step 5. Exchange Info with Other Drivers
It's a little like a strange, unwanted meet-and-greet, but it's essential to exchange names, addresses, phone numbers, insurance companies, and policy numbers with all parties involved.
Remember to keep things civil.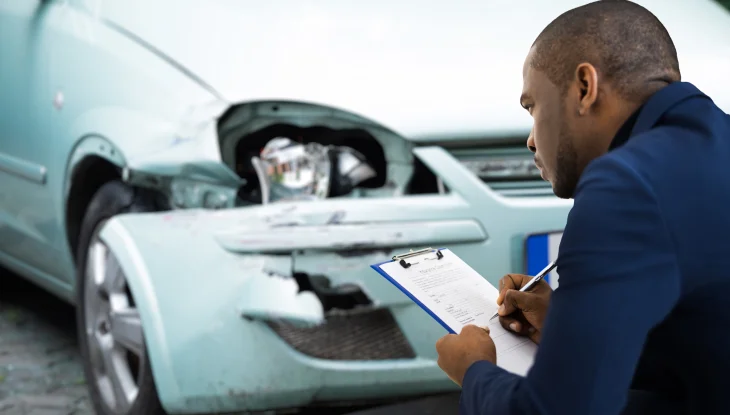 Step 6. Document the Incident
Jot down the details of the accident while they're fresh in your mind. Keep track of all the critical details, including the date of the accident, where it occurred, any witnesses and contact information for bystanders, the license plates of each vehicle, and the information for the other involved driver.
Gathering accident evidence can make all the difference in your financial liability.
Step 7. Notify Your Auto Insurance Company
Give your insurance company a ring or use your app. The sooner, the better, to start the claim process. Remember, honesty is the best policy when contacting insurance company reps!
Your insurance company may also have additional questions for you during the claims process – be sure to respond to these requests promptly.
Step 8. Contact an Attorney if Necessary
If the accident is severe, you might need legal advice. There are many attorneys in Georgia specializing in accident law. It's their job to help you navigate the aftermath of an accident. Some things to keep in mind when choosing an accident attorney include:
Experience and Expertise: Attorneys specializing in accidents will have more to offer than those who don't, especially when dealing with injuries and medical care.
Reputation: Consider reaching out to friends and family members first for advice on a good attorney. Also, read reviews and third-party rankings to better understand if a particular lawyer knows their stuff.
Trial Experience: If your case goes all the way to a jury trial, you will want to work with an attorney with significant litigation experience. You can do a public court records search to find this information.
Communication and Professionalism: Attorneys that care about their clients will respond to your emails and phone calls in a timely fashion, even when the going gets tough.
Fees: Most attorneys take cases on a contingency basis, which means they will only be paid if they successfully win compensation for you in court.
What to Do If You're Involved in a Hit-and-Run Incident
Being involved in a hit-and-run incident can be a scary experience, especially if you have been injured as a result. If you do find yourself in this situation, ensure that you avoid the urge to chase after the other vehicle.
Your first job is to make sure you and your passengers are safe. Next, call the police. You should call 911 to report a hit-and-run, especially if you think the driver is driving erratically.
Make sure you work closely with the police and answer their questions. Key information to include would be the license plate number, vehicle make and model, and any other identifying details about the other driver.
The police may also assign a detective to your case, especially if the other driver has a record of reckless driving.
Don't Wait Until You Get into an Accident: Get Auto Insurance in Georgia Today
Georgia requires all drivers to hold a certain amount of liability insurance, and it's better to have that in place before you hit the road to avoid possible legal penalties.
To get started with your customized auto insurance policy, call 855-468-3569, get a , or visit your local Georgia Velox Insurance office to speak with an experienced agent!
Ready to Get a Quick Quote?