Getting Prepared For an Emergency in Your Car in Georgia
By Velox | February 18, 2022
There are things all of us should do before we get in the car and drive anywhere, including making sure our vehicle is properly maintained, tires are up to the task and we have plenty of gas. Don't forget your driver's license and proof of car insurance – every state requires some form of car insurance. Let's take a look at some of the other items you could have in your car to make an unexpected stretch in the car a little more comfortable.
Items You Should Always Have in Your Car
Aside from packing a regular emergency kit, your car should always have jumper cables, a "donut" or temporary replacement tire, glass-breaking tool and tire pressure gauge. You may consider a spare phone charger, we well. These items are necessary no matter the season or if your trip is a short.
If you want to be appropriately prepared the rest of the time, you could build your emergency kit based on the season, your gender and who may be in the car. For example, a blanket is not necessarily the most important item during summer travel. If there are usually children in your vehicle, adding an unfamiliar game or puzzle book might be a good idea.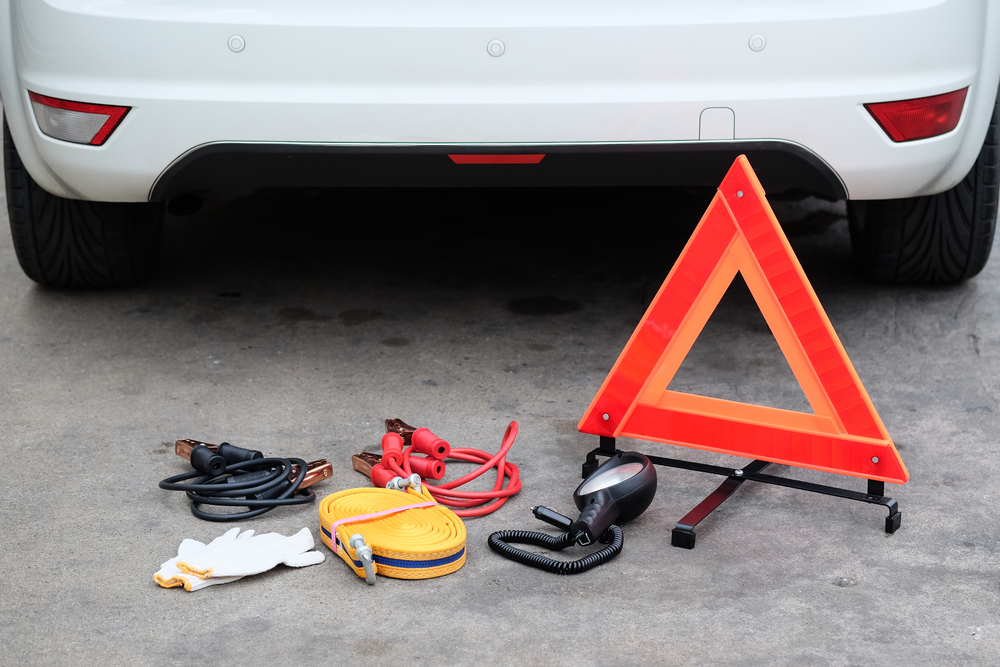 What Should I Include in a Car Emergency Kit?
Being stranded anywhere in freezing cold weather is not going to be comfortable – but there are certain items we can have in an emergency kit to make it a little more bearable.
Here is a list of items you should stick in your emergency kit for winter, summer and both.
Winter: A blanket or sleeping bag – Being able to build a fort in the car with blankets and coats can go a long way when combined with body heat. Space blankets are very compact so you can choose to stock those and not take up much room.
Winter: Bag of kitty litter – People who are familiar with driving in snow understand that they may have to dig themselves out and kitty litter is a great tool for getting some tire traction.
Winter: Boots or, at the least, clean, dry socks. Keeping your feet dry may become more of an issue than you know, depending on how long you are stranded.
Summer: Bug control, such as a spray or lotion that contains Deet. If you are stranded anywhere in the summer, you may be contending with clouds of mosquitoes.
All season: Flashlight – It may be dark when you become stuck. It may get dark while you are stuck. Either way, whether it's hot or cold outside, you still want to be able to see what's out there. Depending on how long things go, you may also need a light source to help you or your children find a place to potty safely.
All season: Battery powered radio – Generally, most people won't be in a position where this is a necessity, but it never hurts to know what's coming down the pike as far as winter weather or hurricanes are concerned.
All season: First aid supplies – You should have the basics like bandages for minor cuts and scrapes, adhesive tape and gauze for more major injuries and some kind of antiseptic wipe, plus some over-the-counter aspirin or pain reliever.
All season: Water and food. When storing water in your vehicle in the winter, make sure it won't freeze and bust. Food should consist of protein and snack bars. You might include some candy that's not likely to melt in the summer. All water and food products need to be changed out every six months. It's easier to remember if you put it on your calendar.
Being prepared is always the best option.
Making Sure You are Protected in an Emergency
You can take steps to make sure if it ever happens to you and your family, you'll have some ways to mitigate the circumstances with an emergency road kit.
At Velox Insurance, we are all about helping to make your life easier. To get an affordable quote on Georgia car insurance, visit Velox Insurance , give us a call at 855-GO VELOX or stop in at one of our locations today.
Ready to Get a Quick Quote?