7 Georgia Home Insurance Myths (and the Truth Behind Them)
By Velox | December 07, 2022
The world of home insurance can be tricky to navigate, which is probably why there are so many misconceptions about it.
With so much contradictory information in the insurance marketplace, how can you know what to believe? Today, we'll walk you through seven common myths about Georgia home insurance and the truth behind them.
1. Myth: Home Insurance Is Required in Georgia
The Truth: Unlike auto liability insurance in Georgia, there is no legal requirement for you to carry it in Georgia. But even if your dwelling is paid off, that doesn't mean that it's not a good idea!
However, if you have a loan, your mortgage lender will very likely require you to have an active policy as part of your mortgage agreement. Your contract will specify what types of Georgia coverage you need as well as minimum policy limits.
If you don't get the required coverage, the lender could consider you to be in breach of your loan, inviting all sorts of headaches and added costs.
Second, where you live is probably your most valuable investment. Why wouldn't you want to protect it? Unless you have the money to rebuild your entire house after a fire or storm, this will save you money in the long run. Keep in mind that if your house is destroyed by a fire or natural disaster, you are still on the hook to pay off your mortgage.
2. Myth: It Only Covers Things Inside Your House
The Truth: One of the biggest benefits of this type of protection is that it covers the loss of possessions you keep in your home. But the coverage doesn't stop there!
It also covers your personal items when they're stolen outside your residence — for instance, if someone breaks your car window and steals your laptop. In fact, this is the only way to protect your belongings when they leave your house. In the previous break-in example, a comprehensive auto insurance policy would cover the cost to repair your car's broken window, but not the cost to replace your laptop.
Georgia homeowner's can also cover items in detached structures like sheds, as well as items in storage. However, this coverage is often much more limited, so talk to your insurer to make sure you have the protection you need.
3. Myth: GA Home Insurance Covers All Natural Disasters
The Truth: Most Georgia policies cover damage from a variety of natural disasters like fire, wind, lightning, and hail. But other types of events, like floods and mold, are usually not covered by your policy.
Your policy documents will list what kinds of events are and aren't covered. Most policies are named perils policies, meaning that you're only covered for events (or perils) specifically listed on the policy. If you have an open-perils policy, then you're covered by any event unless it's specifically excluded from the policy.
If it's not covered in your policy, be sure to speak to your carrier about adding protection for floods and other special events.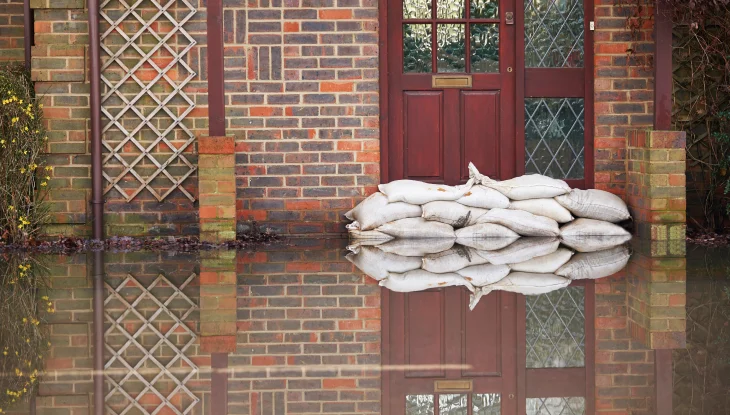 4. Myth: Homeowner's Insurance Will Provide Full Reimbursement for Your Items
The Truth: A common myth about Georgia homeowner's insurance is that you'll get fully compensated for your items when you file a claim. But what usually happens is that the insurance company will take into account how long you've owned the item to calculate the actual cash value (ACV).
For example, if you bought a new TV a while ago for $1,000, it might be worth only half that amount today. So, the insurance company will calculate the ACV to be $500.
If you want to be compensated for the full replacement cost of your possessions, then talk to your insurer about getting a replacement cost value (RCV) policy. With RCV policies, your policy will cover the cost to buy a similar new TV in today's dollars.
5. Myth: The Less Coverage You Have, the Better
The Truth: Homeowner's insurance is about more than bare-minimum protection. It's about having adequate coverage and taking the time to understand the value of your possessions as well as what would happen if you suddenly lost them overnight.
One way to start is by prioritizing what you own. For most people, it means ensuring that large appliances, cookware, and basic furniture are all covered. But how much would you miss your laptop if you suddenly lost it? What about your stereo system? When your most important items are financially protected, you know you're getting the best type of homeowner's insurance for your home.
6. Myth: You Can Always Get It Later
The Truth: The worst time to get this type of protection is after disaster strikes. Like collision insurance and other types of coverage, your policy won't work retroactively. So, if your house was burgled on the 15th of the month, a new policy that starts on the 16th will only protect you against future burglaries.
Please note that lying to the insurance company about when an event occurred is always a bad idea. Insurance companies have sophisticated ways to detect fraudulent claims through police reports, witness accounts, and other methods.
If and when you're caught, not only will the insurance company deny your claim, but you can face felony charges too. In Georgia, the penalties for insurance fraud include fines of up to $10,000 and between two and ten years in prison! Therefore, it's best to report claims on the date they occurred.
7. Myth: Georgians Homeowner's Insurance Is Expensive
The Truth: The average cost can be between about $975 and $1,400 per year, depending on your policy. That amounts to less than $120 per month, maximum. In other words, for the cost of a few nights out with your family, you could be protecting your home, its furnishings, and your peace of mind.
At the end of the day, not having Georgia homeowner's insurance is the more expensive option!
Affordable Home Insurance in the Peach State Is Just a Click Away 
Nobody can predict the future, but homeowner's insurance can help you through the unexpected. At Velox Insurance, we work with homeowners all around Georgia to find the insurance they need at the best possible price. All it takes is a few minutes for a . Or you can visit one of our offices in person or pick up the phone and call us at 855-468-3569.
Ready to Get a Quick Quote?