Why Tenants in Georgia Need Rental Insurance This Holiday Season
By Velox | November 08, 2022
'Tis the season to be protected with renters insurance in Georgia. The holidays are coming, which means your to-do list just got about three miles longer than usual. There are gifts to buy, cards to send, and parties to attend. Making sure you won't be left high and dry if something happens and everything you own is destroyed is just one less thing you have to worry about.
Renters insurance all over the country often gets overlooked. Many people assume that because the landlord owns the property, their insurance covers the tenants. Unfortunately, that's not true. Here are some great reasons to get protected.
Renters Insurance is a Must-Have for Georgians
Although some landlords may make renters insurance part of their lease, it is not legally required in Georgia. But if you want to protect yourself against loss, liability, and the anxiety that comes with being uninsured, it is a must-have.
If you haven't already secured a comprehensive policy for renters insurance, the smart move is to get it done as soon as possible. It will cover you for lost personal possessions and personal liability.
Criminal Activity Increases During the Holidays
The holidays can be a wondrous time of joyous family celebration. It can also be one of the best times to be covered by renters insurance. Families all over the country will be gathering soon enough for holiday meals, gift exchanges, and quality time together. Football will be on the television, people may gather for spiritual or religious festivities, and exorbitant amounts of turkey, stuffing, appetizers, and desserts will be enjoyed by all.
Sadly, this season can also be a prime opportunity for criminal activity. At some point, you may be leaving your apartment in Georgia for a religious service, a Christmas party, or a family get-together. When that happens, criminals may be waiting. They may know you indirectly or they may be total strangers. Either way, these desperate and perhaps heartless individuals will be waiting for you to leave. As soon as they see your car pull away, they may pounce on their opportunity to play Grinch and steal everything from under your tree and beyond.
In recent years, you have likely seen a new form of holiday thievery take place. People are now brazen enough to spot a package from Amazon left on a front porch and take it away. Of course, security cameras and video doorbells, as well as local law enforcement are doing their best to stop this type of criminal activity, but it's still not enough. Packages are taken, and if you're a last-minute gift buyer — like so many of us — you may not have time to replace that item.
If a security camera or video doorbell seems like a good idea, you should go for it. For ultimate peace of mind, however, renters insurance can reimburse you for any lost packages or stolen gifts and other personal items.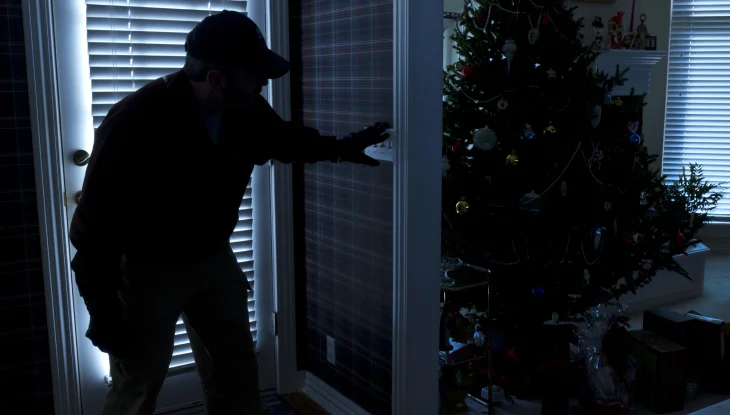 Are You Liable If Someone is Injured in Your Apartment?
Suppose a relative has a little too much to drink at Thanksgiving, and they decide to attempt roughhousing with one of your nephews after dinner. Perhaps the relative is 55 years old and not in an ideal state of physical health. Meanwhile, the nephew he chose to wrestle with is 16 years old and has the strength and energy level of a thoroughbred racehorse. Inevitably, the relative will injure their back, neck, or some other body part.
A close relative is unlikely to take legal action. But what if it's somebody's "plus one" and they're not quite as attached to you or your family? They might decide to sue you for the cost of their medical bills. In this case, the landlord is definitely not responsible, and their insurance will not cover you.
However, your renters insurance could help you pay legal fees to defend yourself in court, as well as helping pay for that person's medical bills. It's almost nightmarish to think about if that person's condition ends up becoming ongoing. Then, you could be on the hook for something much more expensive than you ever imagined, when all you wanted to do was host Thanksgiving dinner.
Renters Insurance in Georgia is Affordable
So, how much does protection against that liability mentioned in the previous paragraph cost? What about the loss of your items? How much does it cost to obtain renters insurance in Georgia with full coverage?
According to the Insurance Information Institute, the average for renters insurance in Georgia is $209 a year, or just over $17 per month. Your premium could be slightly less or more, depending on where you live, your credit score, the insurance company, your exact coverage, the type of property, and any electives you choose. Truthfully, even if the price goes over $20 per month, not only does renters insurance seem affordable, it feels unwise and potentially cost-prohibitive not to have it.
Think about the items you have in your apartment. How valuable are your electronic devices? You might have tablets, laptops, televisions, smartphones, watches, and many more high-priced pieces of technology that need coverage. These items alone could amount to tens of thousands of dollars. What about jewelry? Furniture? Keepsakes? For just around $17 per month, the peace of mind that comes with knowing you can at least get reimbursed for these losses is well worth the price.
Enjoy the GA Holiday Season to the Fullest
Don't let the Grinches ruin your holiday season. This should be a time for joy, family, and extended celebration, not lament, fear, or anger. Getting covered by the right amount of renters insurance could be just what you need for the peace of mind to enjoy the holiday season to the fullest.
So, buy all the gifts you want, merrily place them under your tree, and bask in the glow of the holiday season. While you're at it, maybe buy a little something for yourself. We all deserve a little self-indulgence once in a while, even at a time when giving is most prominent.
Get Affordable Renters Insurance in Georgia Today
The best way to acquire renters insurance in Georgia or anywhere else in the U.S. is to get some quotes. Different providers will offer various levels of coverage at different prices.
Velox Insurance has a variety of coverage options for renters insurance. Contact us today at 855-GO VELOX, fill out our , or visit us in person at one of our numerous convenient locations in Georgia. We will be happy to help you ensure your joyous holiday season is protected.
Ready to Get a Quick Quote?