6 Tips for Driving Safely in Summer Weather in Georgia
By Velox | July 07, 2022
Is there anytime better than summer for a road trip through George?
We rely on car insurance to keep us safe as we drive, and summer is the perfect time to travel through the Peach State. You might decide to check out the Georgia Aquarium in Atlanta or enjoy the historic charms of Savannah. Or maybe you have no plan at all and just want to see where these beautiful country roads will take you!
Of course, different types of car insurance are mostly there to help out if you get in a car accident. It's better to avoid accidents altogether. So before you strap in for a summer road trip in Georgia, check out these 6 important tips for driving safely!
1. Regular Car Maintenance
One of the best tips for driving safely in the summer occurs before you get behind the wheel. Before you go on any trips (especially long trips), it's important to take your car in for maintenance.
You should have your oil changed, your brakes checked, and your air conditioner inspected (your passengers will thank you). You should also have your air filters, assorted fluids, and belts and hoses checked.
Ideally, you're getting this kind of car maintenance throughout the year. It is especially important in the summer because your car can overheat or break down more easily. It's best if that doesn't happen when you're in an unfamiliar location. Additionally, proper maintenance can also help you save on gas prices!
2. Pack Emergency Supplies
Before you drive anywhere in the summer, make sure your car has proper emergency supplies. This includes first aid supplies, physical maps, water, towels, and flashlights. You should also have jumper cables, a tire change kit, and a tire pressure gauge.
Chances are you won't need all of this on any one trip, but the point is to be prepared for the unexpected. For example, you won't be able to use Google Maps if you are in a rural area with bad cellphone reception, but you'll still be able to navigate as long as you have paper maps. If you have a tire change kit, you won't have to worry about blown or flat tires ending your trip early as well.
3. Tire Inspection Before Hitting Georgia Roads
Speaking of tires, it's important to have them inspected before your big trip. Temperature changes during the summer mean your tires are likelier to blow out, especially on those hot Georgia roads.
Your car may feature a tire pressure monitor system that can help you know when something is up with your tires. Keep in mind, though, that these automated systems are not always accurate. It's best to have your tires inspected by a professional before you embark.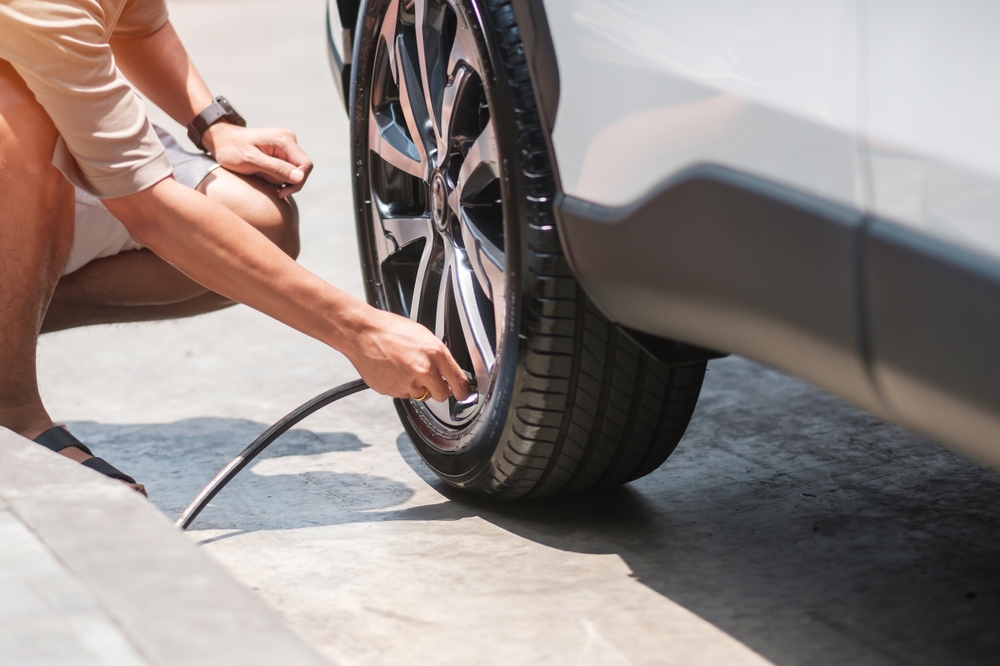 4. Make a Plan Before a Georgia Road Trip
Every good road trip requires a good plan. You shouldn't simply know your destination. You should also know where you're going to stop, what the road conditions are, and how long the journey should take (though you should always plan for some unexpected delays).
This planning is important because it helps you make the most out of your trip, including planning fun stops along the way. It also helps keep you safe because you can let friends and family know your plans and they will know where you are in case your car breaks down.
Finally, checking for things like roadwork along the way will help you plan alternative routes that are safer and will save you time.
5. Check the Weather Before Leaving on a Road Trip
It's always important to check the weather before you hit the road. This is more important than ever when you're driving through Georgia.
For one thing, Georgia gets many thunderstorms throughout the summer. This makes the road more slippery, and many of your fellow drivers are not accustomed to driving in the rain, making the roads dangerous.
For another thing, Georgia is a coastal state, which means that late summer travelers need to be particularly wary of tropical storms and even hurricanes that may threaten your travel plans and even threaten your life.
6. Understand Your Auto Insurance
Your car insurance is there to help protect you from the unexpected. Do you know exactly what your car insurance will and will not protect you from?
It's important to check the terms of your insurance, including whether you have collision coverage (not just liability) and, if so, how much. Depending on where you are traveling and how long you are staying there, you may want to invest in comprehensive insurance which, combined with liability and collision, gives you full coverage.
With most insurance plans, you can change your coverage easily from month to month. If you need better auto insurance, you can get it before your trip. You can potentially save a lot of money by switching to a different insurance carrier!
Get the Best Car Insurance in Georgia Today!
Now you know how to drive safely through Georgia in the summer. But do you know where to find car insurance that will make you even safer?
Here at Velox Insurance, we are ready to make every road trip as safe as possible. To learn more about how we can assist with your insurance needs, all you have to do is contact us online. Or you can just give us a call at 855-GO VELOX. Finally, you're welcome to visit us in person at one of our convenient locations.
Ready to Get a Quick Quote?