6 Things to Do When You're Buying a Car in Georgia
By Velox | December 14, 2022
What do you look for in an insurance company? National brands with humorous commercials are not your only choice for comprehensive, affordable coverage. There is a way to get high value home, rental, motorcycle, and commercial policies in the state of Georgia.?Velox Insurance?proudly operates 22 local branches?and an additional location in Indiana so communities can experience the personalized, friendly one-on-one experience of a local insurance agency.
Despite a personal approach, Velox harnesses the power of larger insurance companies. They maintain the most convenient and affordable insurance coverage choices in the country through:
Partnerships with dozens of major insurance companies.
An online platform, quick quotes, and immediate coverage.
Extensive coverage including: boat, watercraft, RV, motorcycle, home, commercial, auto, ATV, renters, life, and more!
Since 2003, Velox Insurance has provided competitive rates and superior customer service to Georgia. A steadfast commitment to excellence across the organization has propelled the insurance company?s substantial growth over a relatively short period of time. Experience the choice between the convenient, 3-step online experience or stop by one of 22 locations to speak with experienced agents who will greet you with a smile. The Velox team will be ready to answer all of your insurance questions and get you the coverage you need.
Velox Insurance makes getting an appropriate, affordable insurance policy easy?and local! Experience what it means to get trustworthy, personalized auto, home, rental, and commercial insurance from the insurance agents who really know Georgia, and live to serve its friendly citizens!
Call (855) 468-3569 to find the insurance agency near you and?Get a Quote online in minutes.
Buying a car in Georgia can be exciting, but also really stressful. Where do you look? Should you keep negotiating or walk away? And what do you know about Georgia car insurance and how the car you choose may impact your rates?
There are a lot of factors to consider, from setting a budget to picking your favorite color. But before you walk into the first dealership, you'll want to follow these six tips for buying a car in Georgia.
1. Pick the Right Time to Buy a Car in Georgia
When it comes to buying a car in Georgia, timing is everything. The best times to shop for a new car includes major holidays when dealers offer special sales. The end of the month and year are also ideal times because dealers are more willing to negotiate to hit their sales targets.
Finally, new car models tend to arrive in the fall, so late summer is also a good time to shop for a car in Georgia. Dealers need to make room for their new car inventory.
2. Shop for a Car in GA with a Budget in Mind
Buying a car is a major financial decision, and it's important to understand how the purchase will affect your life in the future. Before you even start looking at car models, take the time to understand how much you can afford. How much money do you make each month? How much will be left over after car payments, gas, and maintenance? What kind of Georgia car insurance will you need?
Once you have a budget set, you'll have a much clearer picture of where to start looking for a new car in Georgia — whether to buy a new or used car, a compact or an SUV, and so on. You'll also have a better idea of how much you pay for Georgia car insurance.
Always remember that you've put a lot of work into determining your budget, so stick to it! Don't let the car sales rep push you into breaking your budget. If they absolutely can't meet your maximum, then it's time to walk away.
If you're getting turned down by multiple dealers, then you may want to go back and revisit your budget. But do it on your own terms and at your own pace. The dealership lot is not the place to make sudden changes to your financial plan.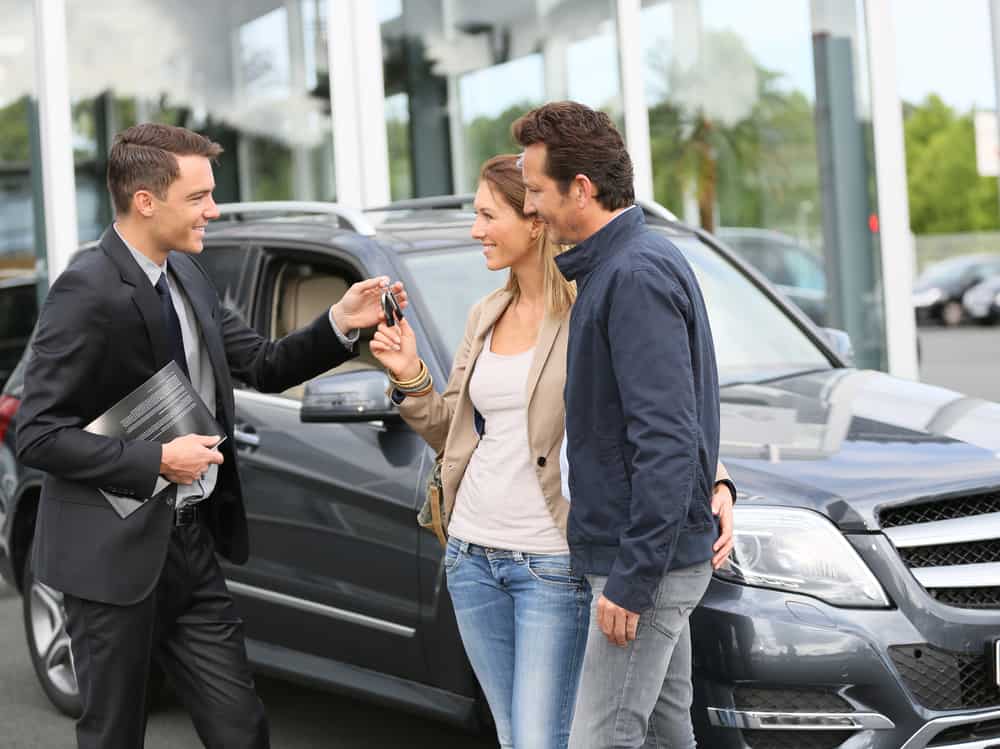 3. Have Your Financing Lined Up
Speaking of budget, before you visit your first dealership, decide how you plan to pay for your car. For most people, that means taking out a car loan. Just like shopping for the best insurance quotes, it's worth it to get quotes from different banks to find the best interest rate and payment terms.
Doing your financing homework will also give you some leverage when you're negotiating at the dealership. That's because dealerships make money off loan referrals and want you to use their own network of financing companies instead. If you can tell them that you're getting a better deal somewhere else, they may be willing to match or beat your best offer.
If you've saved up to buy your car without financing (always a better choice!), keep in mind that most bank cards have daily purchase limits. Some dealerships accept personal checks, but chances are that you'll have to get a cashier's check from your bank to buy your car.
4. Georgians Should Shop Around for Their New Car
Now that you're set on your budget, it's time to start looking at cars! You probably already know where to find the nearest dealerships in your area, but those aren't the only places to look. Ask local friends and family where they got their last one and if they recommend any dealers. If they feel like they got an honest deal, chances are that you will, too.
You should also look for dealerships in smaller towns in your region. Dealers here don't get as much business and might be more willing to lower their prices for your business. In the end, driving a few hours one day to save thousands of dollars is definitely worth it!
5. Don't Forget About Car Insurance in Georgia
As you build your budget and negotiate with the dealer, don't forget that insurance is also a major car expense. In Georgia, all drivers need to have minimum liability auto insurance with the following policy limits:
$25,000 in bodily injury liability (per person)
$50,000 in bodily injury liability (per accident)
$25,000 in property damage liability
In addition, Georgia car insurance companies are required to offer you uninsured motorist coverage. You're allowed to skip this coverage, but it's a smart idea to have it to protect you against uninsured drivers and hit-and-runs.
If you're planning to finance your car, keep in mind that the finance company will likely require you have full coverage insurance, at least until you pay off the loan. If you don't keep the minimum insurance in your contract, then the financing company can take out a policy in your name and charge you for the premium. Needless to say, they won't be looking for the best deal on Georgia car insurance.
6. Don't Hesitate to Walk Away
Buying a car is not only a big financial decision but an emotional one as well. Dealers know this and use sales techniques to get you excited about spending more than you planned. Even if you fall in love with a new car, remember breaking your budget can wreck your other finances.
Don't feel pressured by the car sales rep into making an on-the-spot decision. If they warn you that you may not get the same deal tomorrow, remember that it's their job to keep you at the dealership for as long as possible so that you're more likely to buy.
Get the Best Deal on Georgia Car Insurance for Your New Car
Even after you pay off your new car, you'll still need to pay for Georgia car insurance. That's why it's so important to get a good deal and avoid years of overpaying. At Velox Insurance, we work with new car owners all over Georgia to find the insurance they need at the best possible price. All it takes is a few minutes to get a quote for . Or you can visit one of our offices in person or give us a call at 855-468-3569.
Ready to Get a Quick Quote?